A day out at the RHS Chelsea Flower Show
The Royal Horticultural Society Chelsea flower show has been held in the grounds of the Chelsea hospital every year since 1913, apart from gaps during the two World Wars. It has become firmly established as the most prestigious flower show in Britain and one of the social events on the 'summer season', that slightly peculiar English tradition of summer 'society' events where one must really be seen to be properly considered part of proper society.
My parents dragged me along to one of the public days when I was young, though at an age when I absolutely hated that sort of thing, I'd far rather have been playing football than looking around some 'stuffy' gardens in amongst a bunch of posh, old, people. Now, well, whilst I can't claim to be 'posh' I'm certainly getting older and find myself much more likely to actually 'enjoy' this sort of thing.
So, when international pin up darlings, the Satin Dollz approached me with a view to being their photographer for a 'day out' at the flower show, I could hardly refuse, it sounded like a lot of fun.
Based in Hollywood, London and Paris, the Satin Dollz are an international troupe of talented singers and tap dancers who have performed multiple times on BBC Radio, singing with the UK's No. 1 Swing and Jive Band, the Jive Aces, to over 20 million listeners and to thousands of people the world over at live shows, from performances at London's world renowned 100 Club, jazz residencies at Los Angeles' famous Cicada Club, NYC's Swing 46, on the Island of Malta in St. Julien's Bay and with the Glenn Miller Orchestra at established vintage and retro themed events in the United States.
I had already worked with the London branch of the Satin Dollz a few times but was still flattered that they would ask me to cover their day at such a prestigious event and had no trouble deciding to clear a slot in an already busy calendar.
As ever for any outdoor photo shoot in the UK, whatever the time of year, the weather potentially plays a part. A cold, wet day can ruin an outdoor 'summer' shoot, so weather forecasts always play a part as the shoot approaches. This time though, it looked as though the weather would be perfect, and for once, that turned out to be the case.
The Satin Dollz would be performing at the show with the Jive Aces, on the main stage at 4:30pm, but we had arranged to meet up late morning to take full advantage of the location and get some 'summer shots' as well as covering the performance.
For anyone who has ever been to anything like the Chelsea Flower Show, you'll know that as you get closer to the event, so the crowds start to build, even if you didn't know where you were going, all you had to do coming out of Sloane Square tube station was to follow the crowds. I had arranged to meet with Allison, the founder of the Satin Dollz who was over from Hollywood for the week, outside the main entrance, we then made our away through security into the show grounds to meet up with the rest of the girls.
Even though the girls were just standing around in a group, at the prescribed meeting point, they were already creating quite a stir, numerous people were stopping and taking pics of them, or asking for selfies, not particularly surprising as the girls were in full 'vintage' pin up mode wearing a selection of stunning summer dresses supplied by Top Vintage Boutique and individually looked amazing, but together in a group, were something else again.
It was also clear that the show was very, very crowded, far more so than would be usually expected for the Wednesday of the show week. That would mean that we might have to be a little bit creative in finding suitable places to shoot. I had a quick scout around for possible 'backdrops' as the girls retreated to the 'green room' (in reality a portacabin, such a glamourous life) to dump their cases and apply last minute hair and make-up retouching.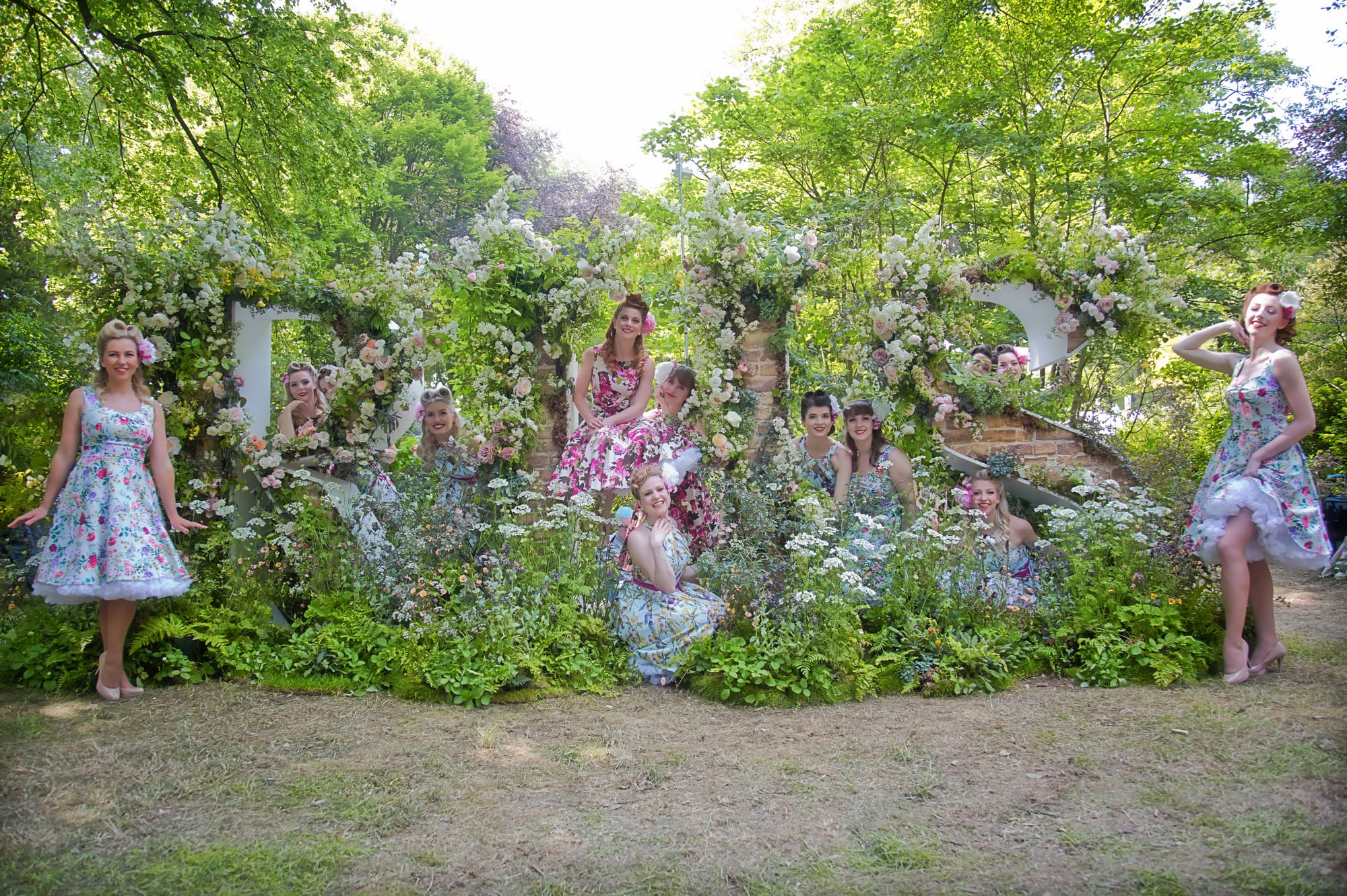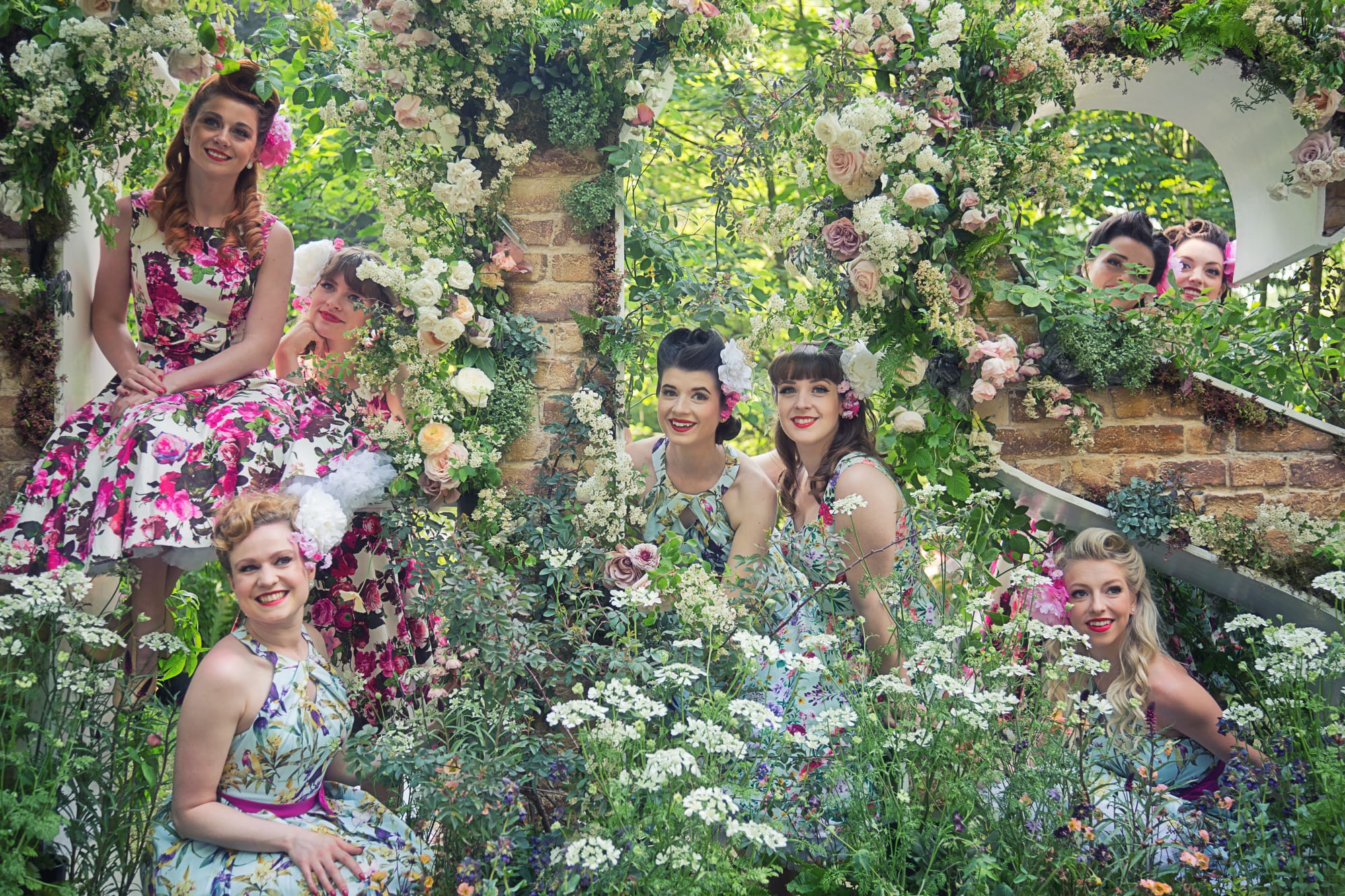 Our first 'backdrop' was a vintage van, suitably 'dressed' for the Chelsea Flower show. As soon as we started setting up for the shot, we found ourselves surrounded by a growing crowd of onlookers, all snapping away with their own cameras. We then spied the RHS 'sign', again looking resplendent garlanded in flowers. This was perfect, as the girls in their flower dresses, could get amongst the greenery draping the 'letters' RHS, and look like flowers themselves. Once again, a huge crowd formed watching us, so much so that this started to cause an obstruction to anyone else attempting to move around the site, so we had to shoot quickly. We had 'exhibitors passes' which gave us a certain amount of leeway, but we didn't want to 'push our luck'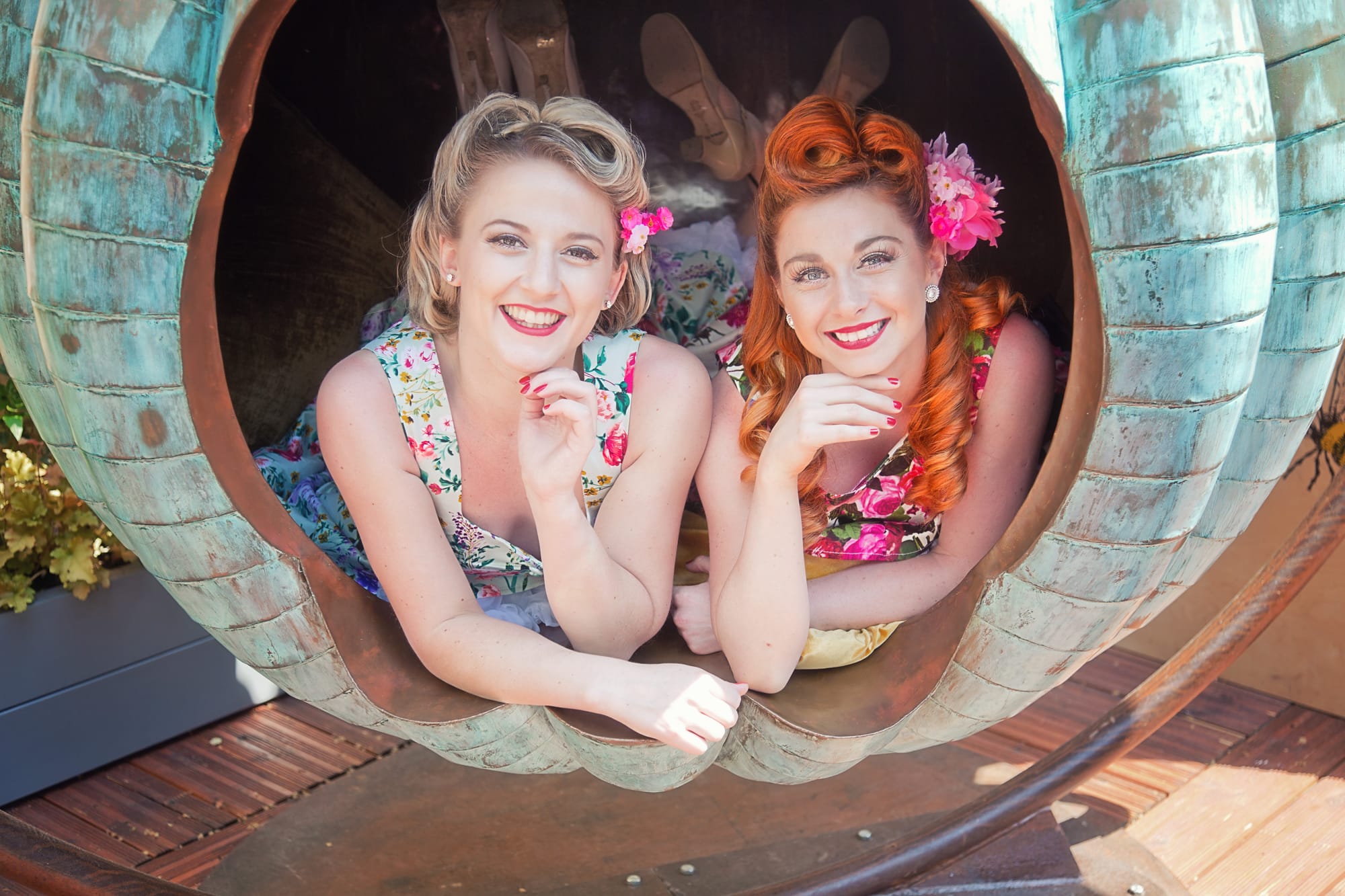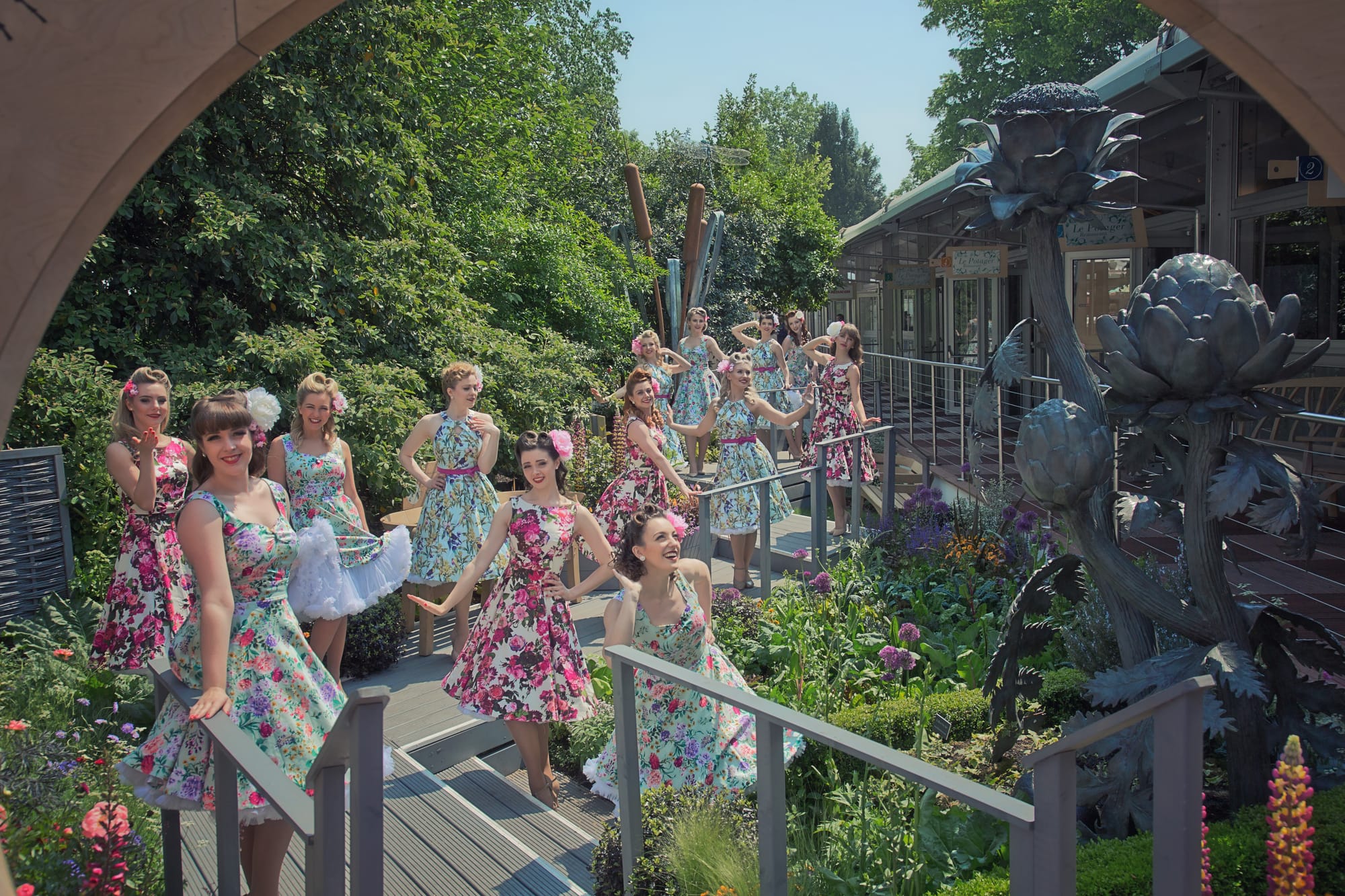 The girls then wandered around the 'artisan' gardens, still being stopped every few yards for 'selfies' or to answer questions as to who they were, why were they dressed up, were they celebs? etc.
We then reached the exhibitors hospitality area, much less crowded, and our passes gained us access. Raymond Blanc's pop up restaurant, Jardin Blanc, was also sited here and looked stunning, after some consultation with the Maitre D' the reception staff confirmed that we could come in to shoot. This was a bonus as it gave us a number of great backdrops to shoot against. The girls were still causing a stir though, and it wasn't long before Chef, Raymond Blanc himself came out to see what all the fuss was about, he of course then wanted some selfies with the girls himself, and as he'd been so kind to let us use his lovely restaurant grounds, we of course obliged.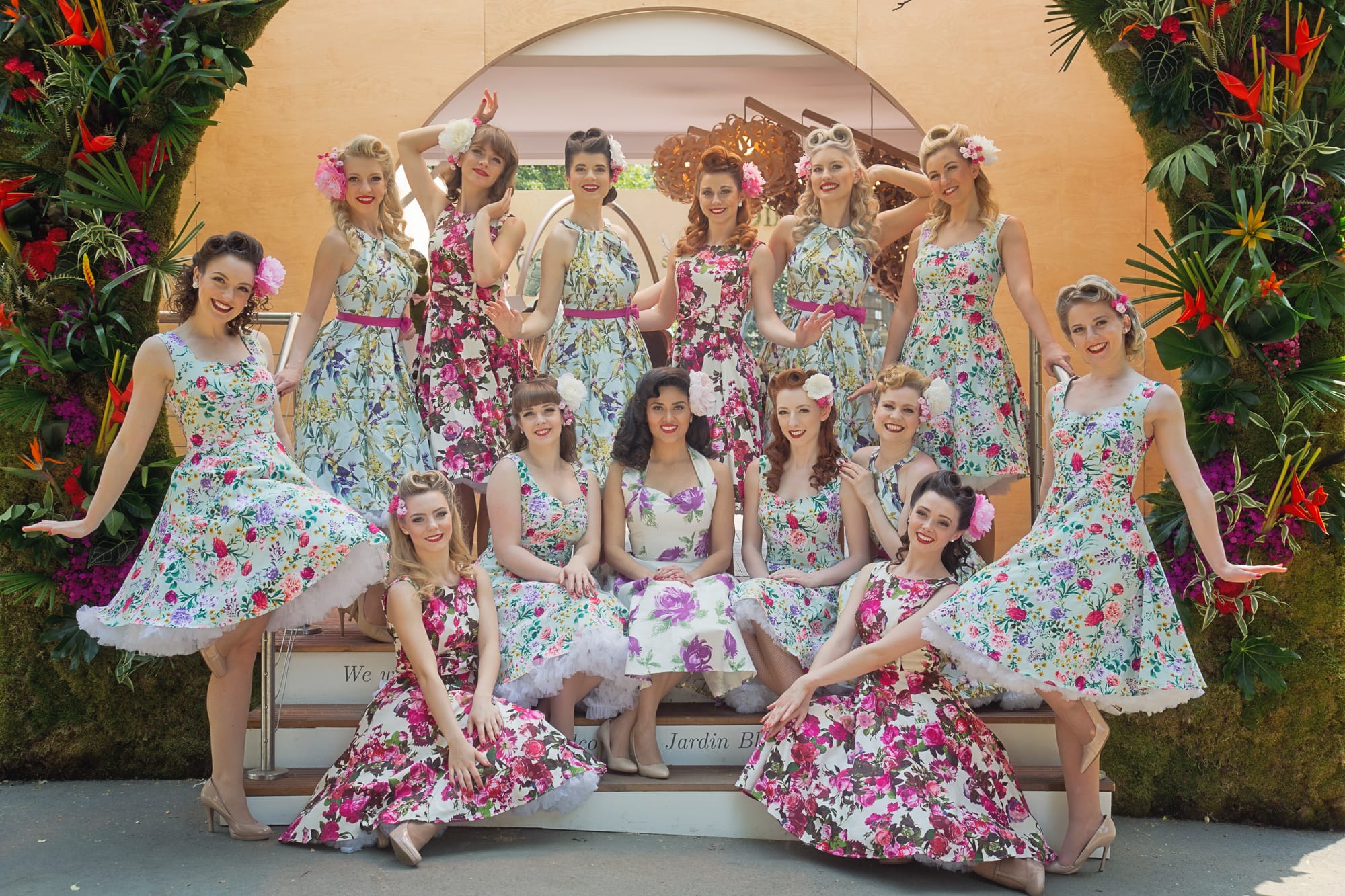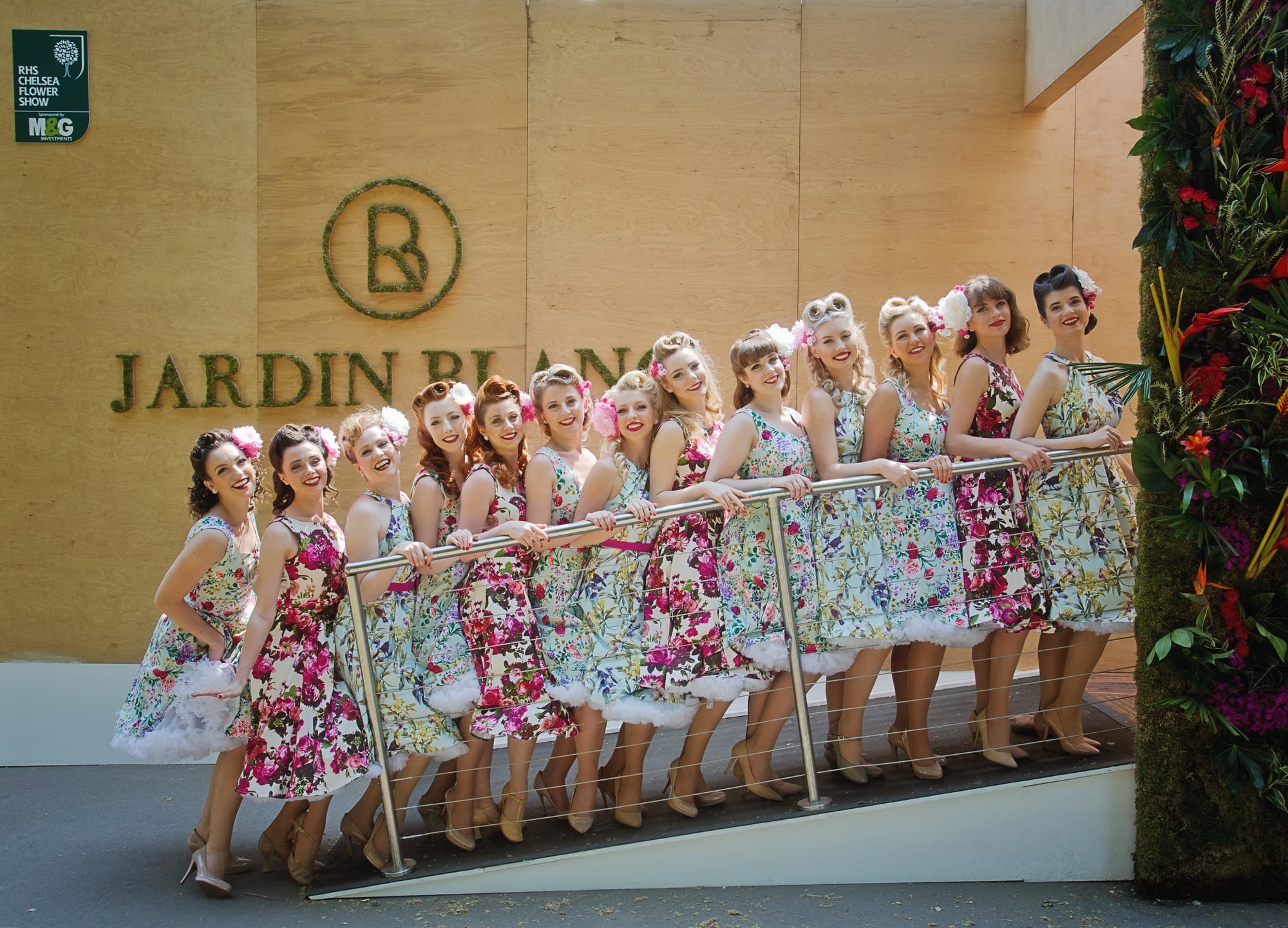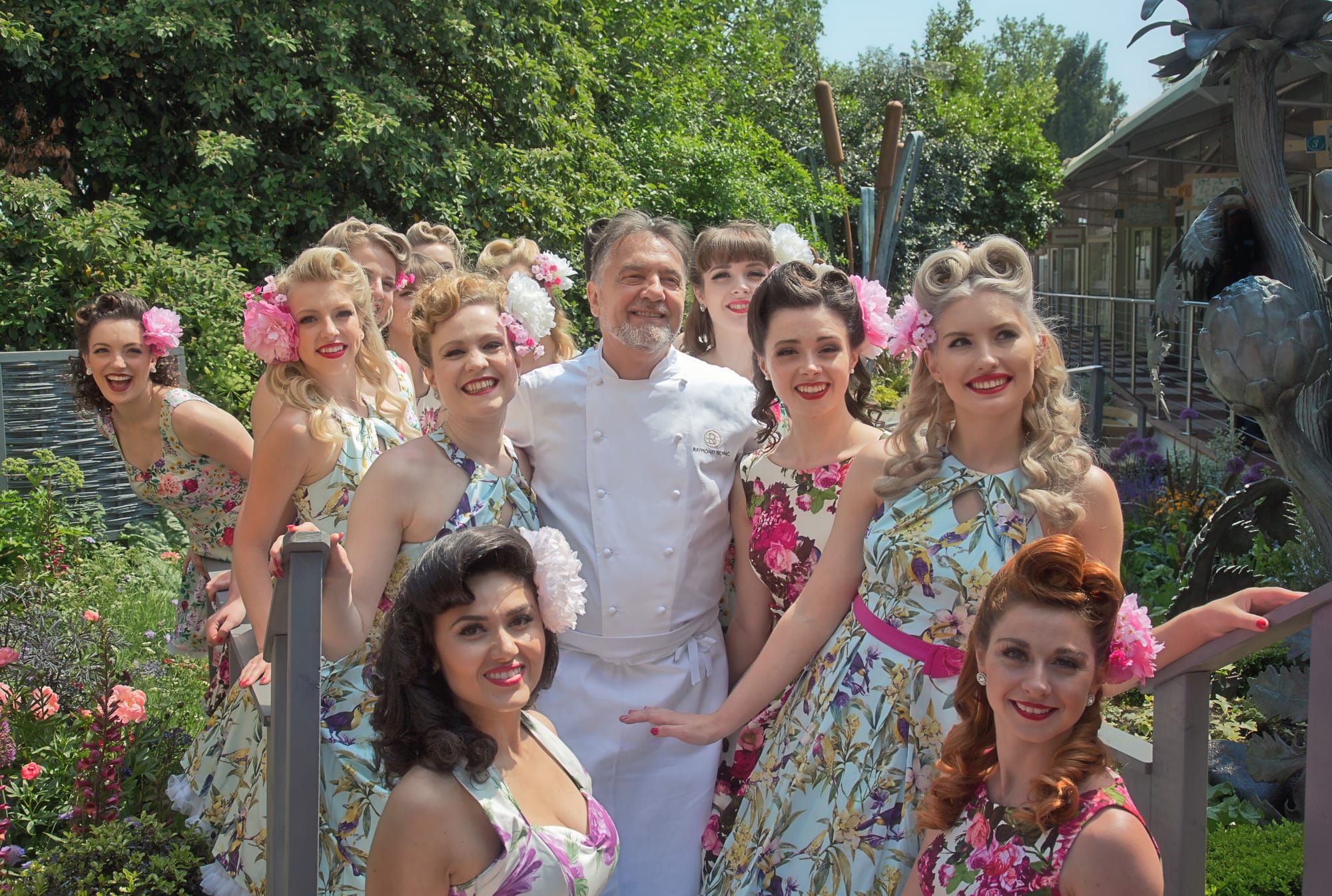 All this had taken a few hours and we were all getting a bit hungry, especially with Raymond telling us about some of his dishes, so it seemed a good time to break for some food and drink at the exhibitors restaurant. After this the girls went their own way for a bit of chill time whilst I had a wander with 'Twin Swing' – the Dollz dance captains and London managers but also established vintage entertainers in their own right, taking the opportunity to grab a few shots for them as well. This was when we came across the BBC filming some segments at the RHS sign. We thought it worth approaching their producer to explain who we were and what we were doing for the day, showing them some of the images they'd already shot. That certainly generated some interest, and for 5 minutes or so there was a lot of walkie talkie chatter back and forth, we put out some phone calls/texts to get as many of the girls back as we could, just in case, and they started arriving, drawing an ever growing crowd. A few of the Jive Aces had also arrived by this point as well. In the end the BBC had too full a filming schedule, both doing some live segments for the news but also content for the RHS Chelsea special going out that evening, so didn't have the time to fit in a feature with the girls as well, so we shot our own little video of the girls giving a small impromptu performance by the RHS sign, something that went down very well with the crowds.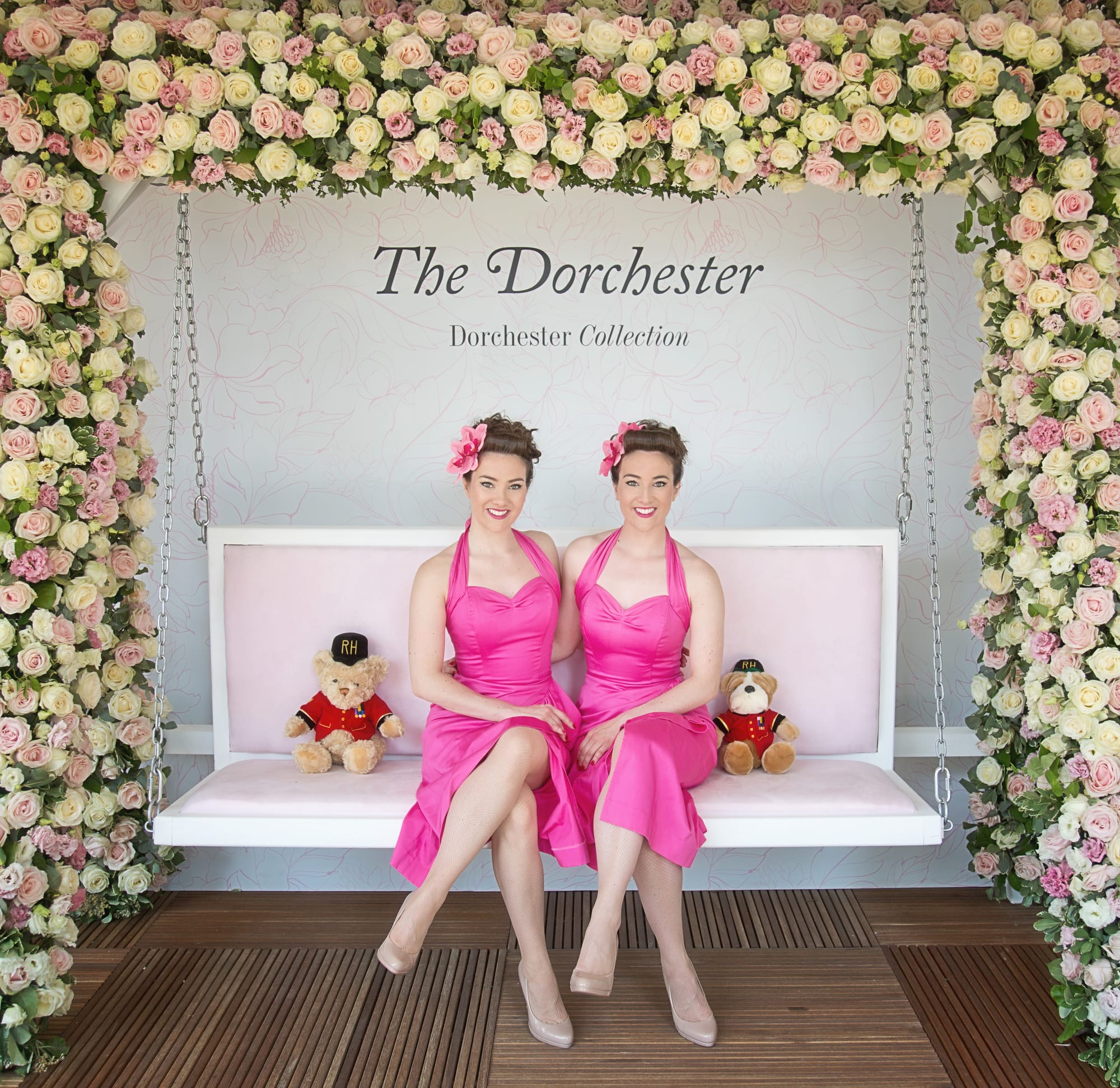 As it now wasn't too long until the Jive Aces and the girls were due on stage, the girls headed back to the green room to get changed and the Jive Aces to get their equipment ready. As 4:30pm arrived, the show started, to a few thousand people, sat on deck chairs, drinking pimms and fizz, and cooling off with gourmet ice creams, about as 'English Summer' as you could possibly get.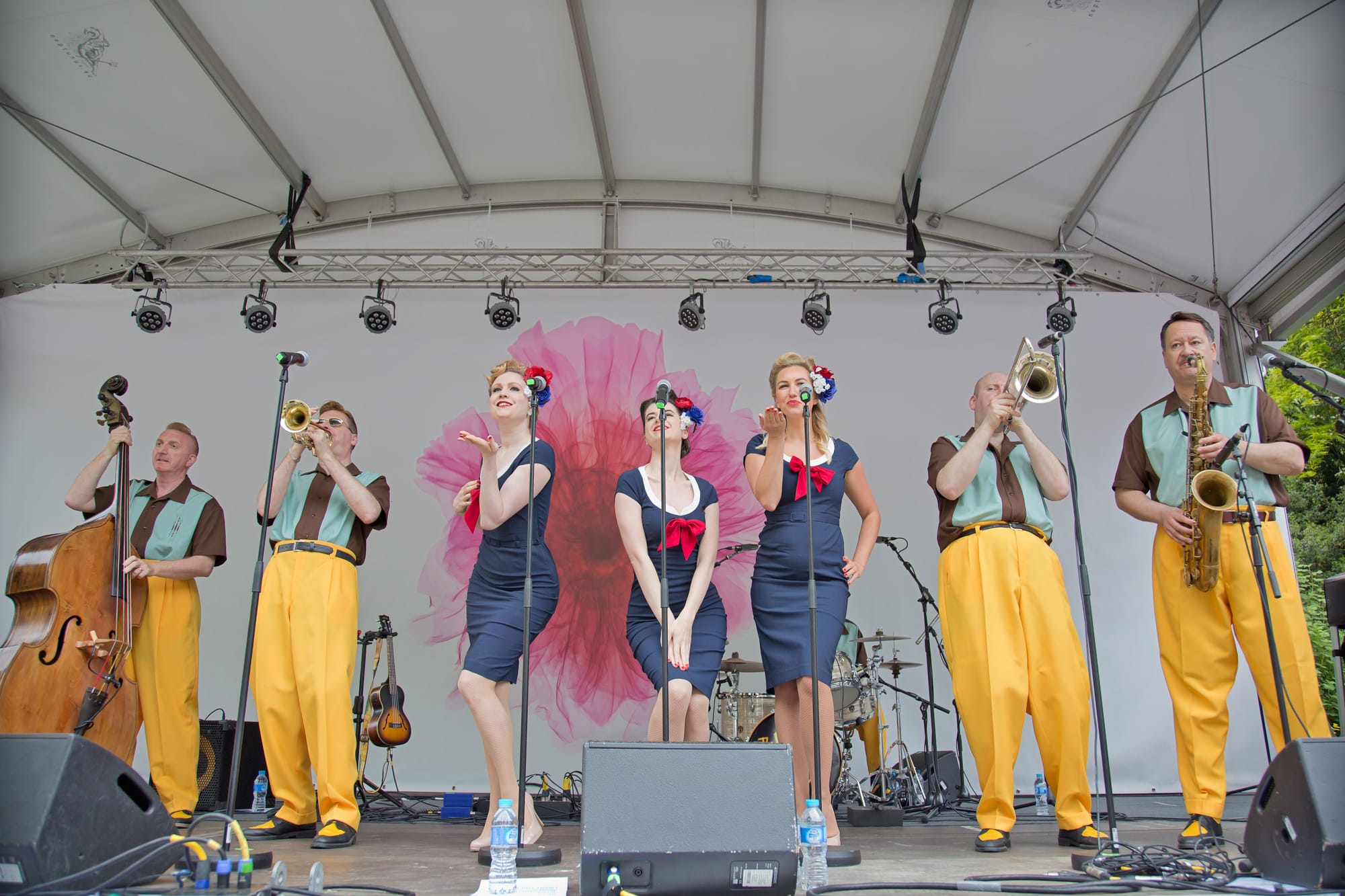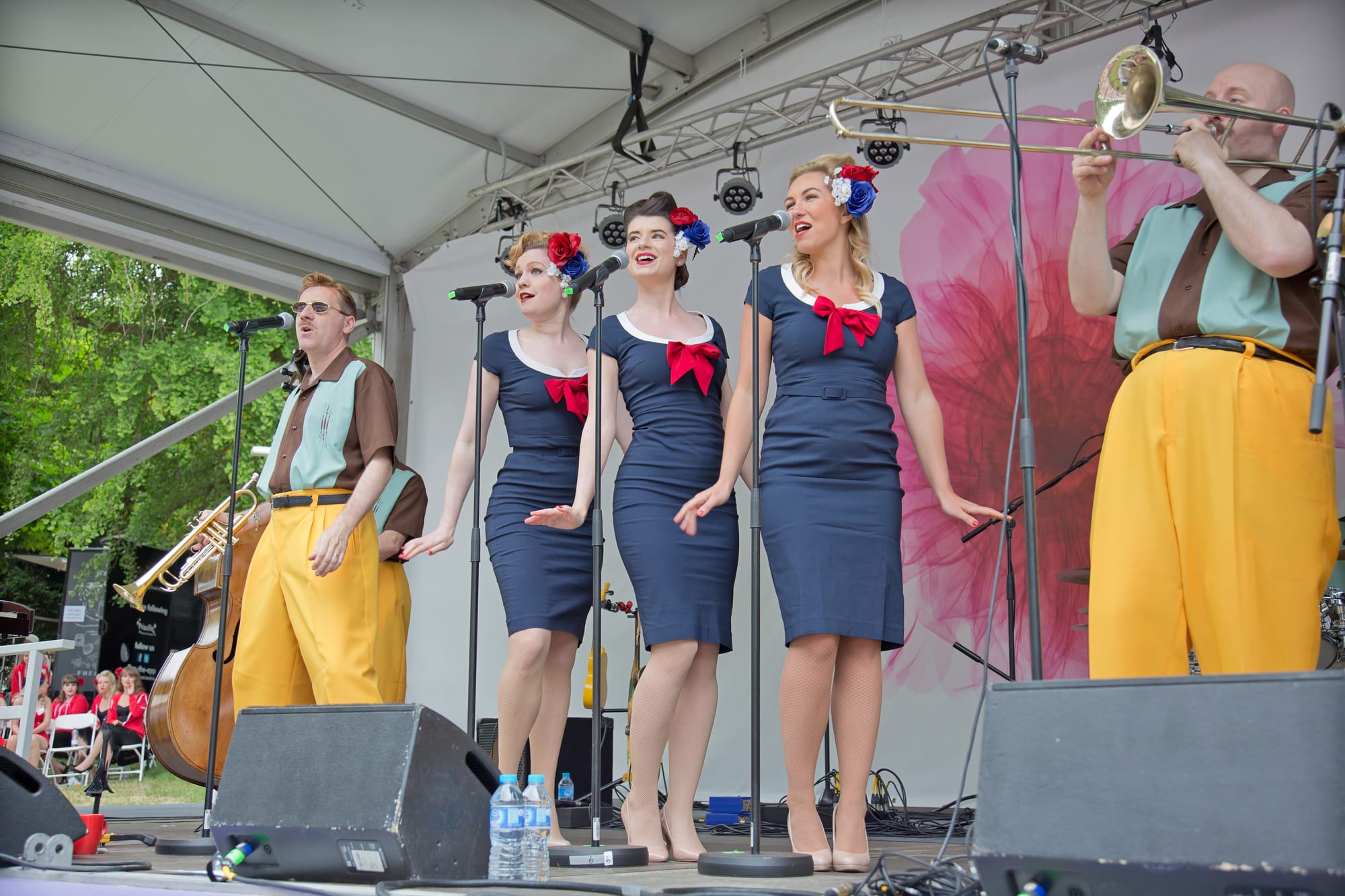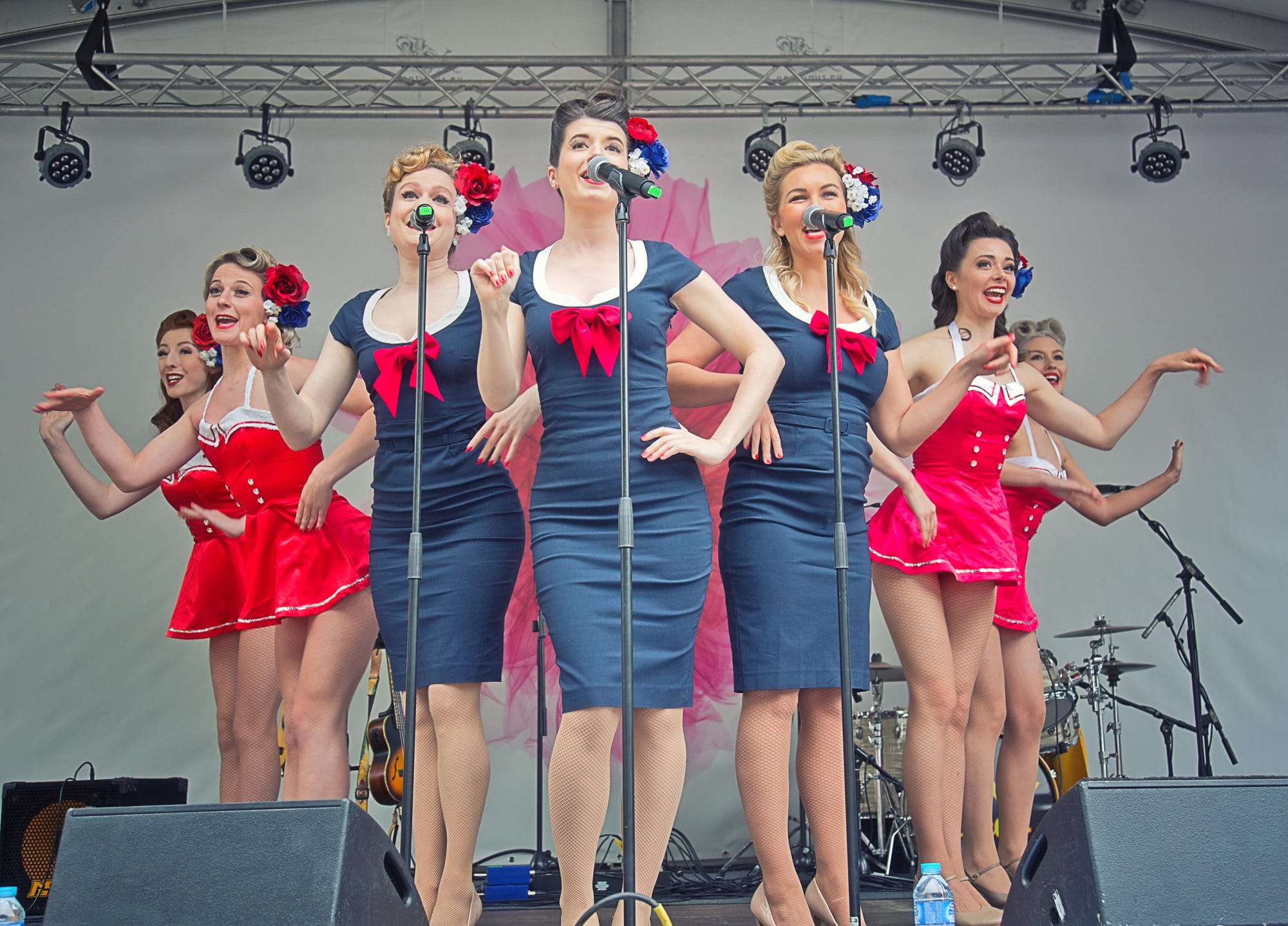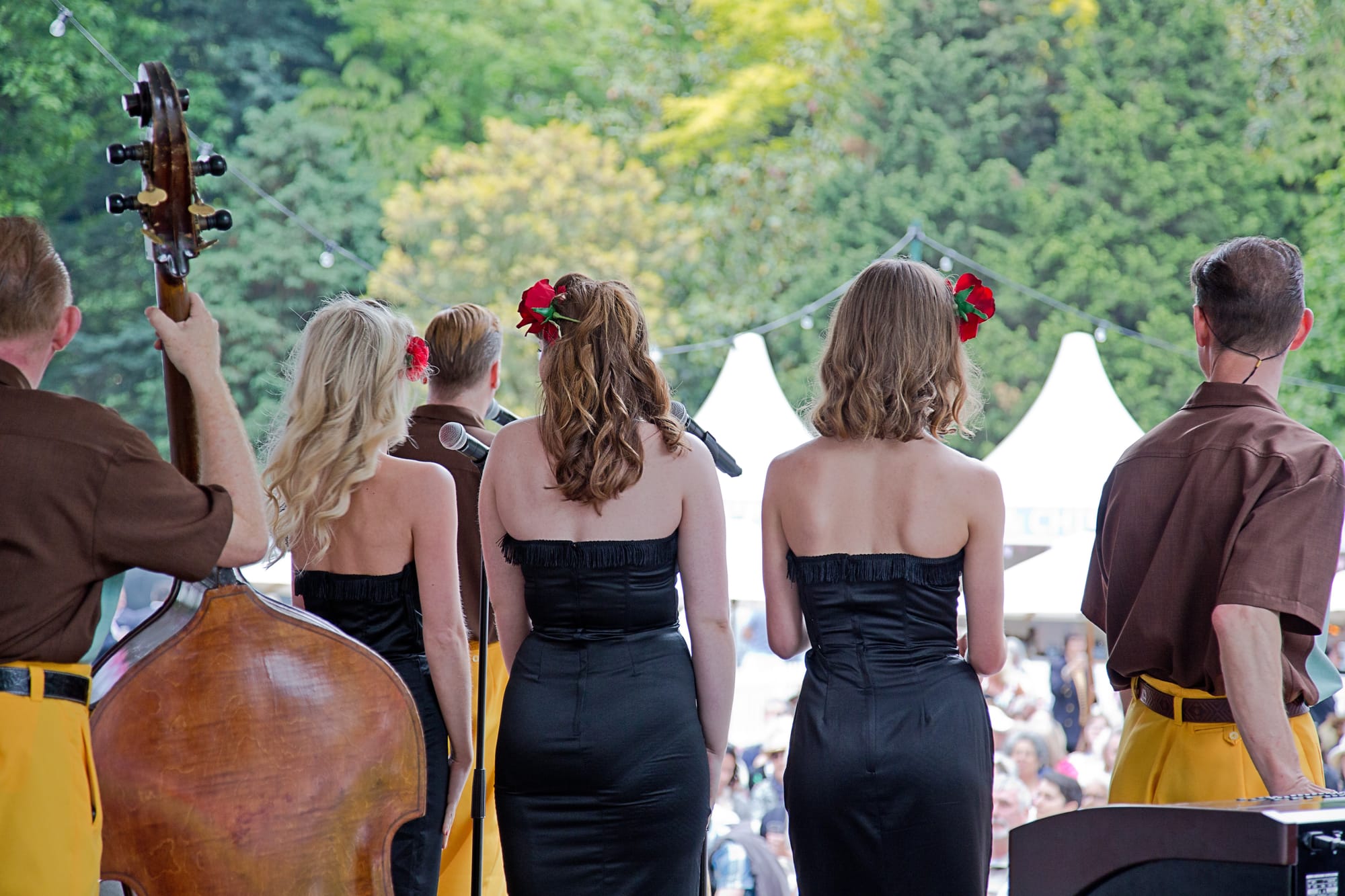 As ever the Jive Aces and the Satin Dollz went down a storm, people were very literally dancing in the aisles and all too soon, what had been quite a long day, was over, some of the girls even had to rush off to another gig that evening, but a fun day had been had by all, and we got some cracking shots as well.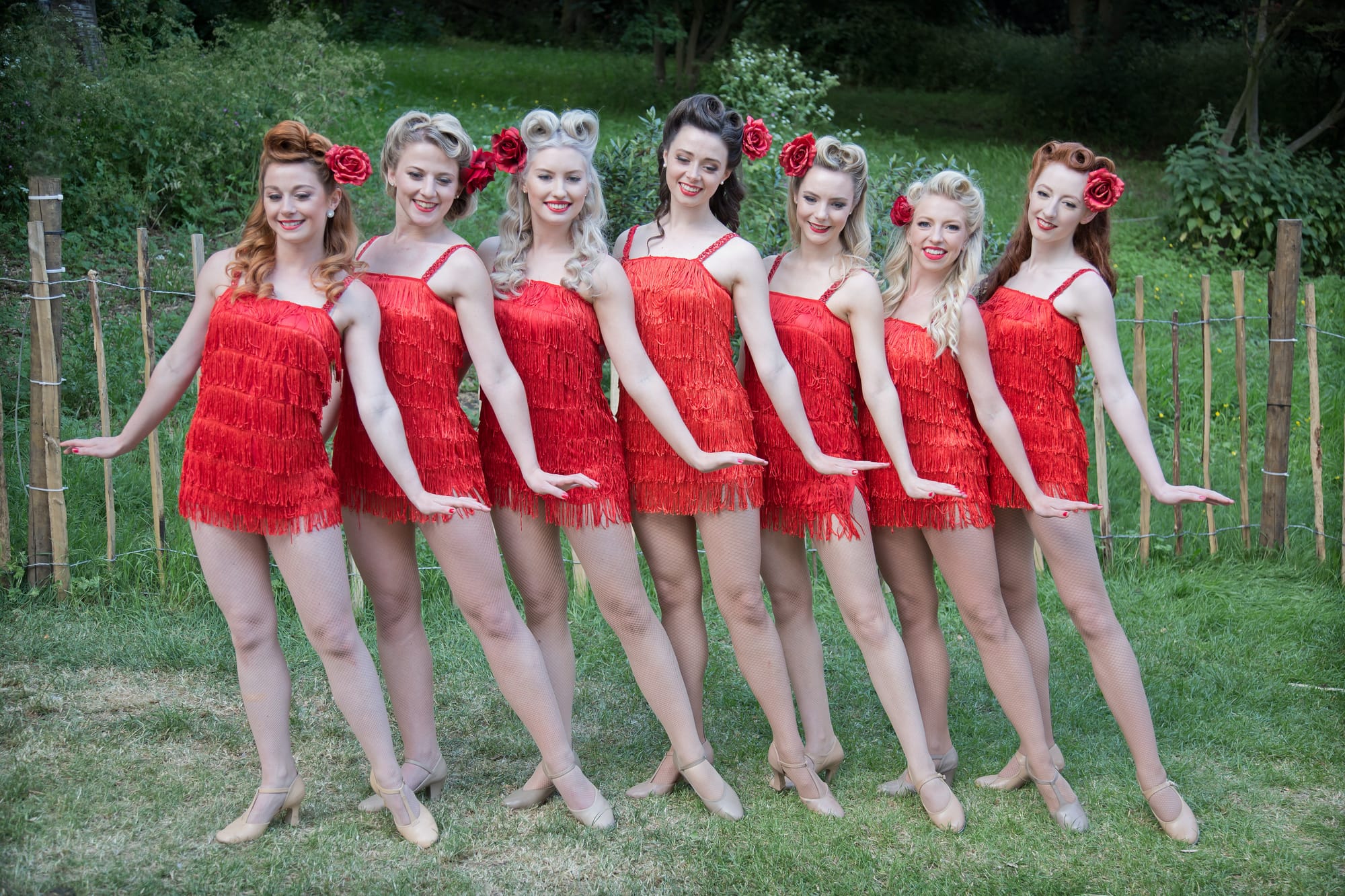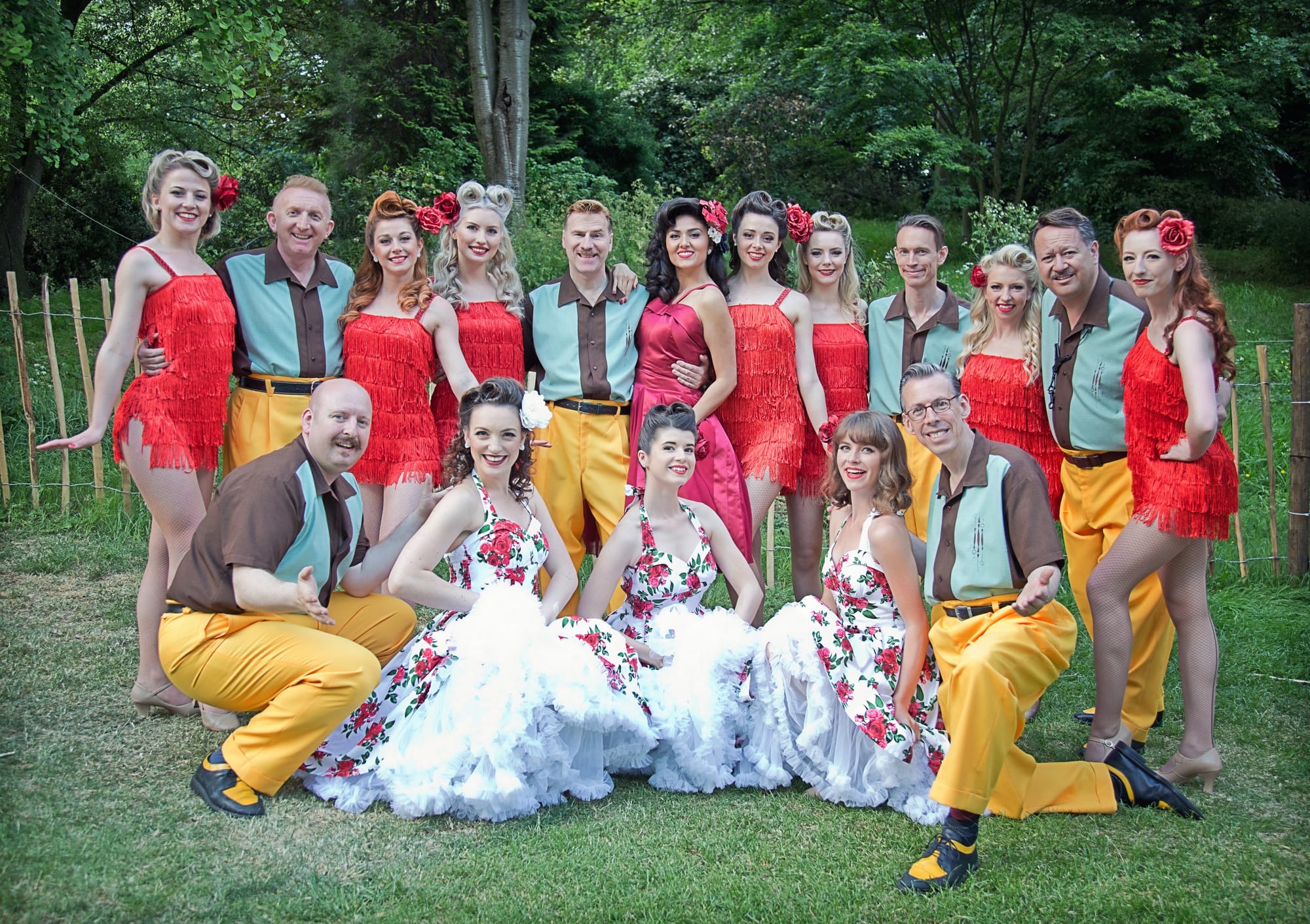 The Satin Dollz
www.thesatindollz.com www.facebook.com/thesatindollzwww.instagram.com/satindollz
The Twin Swing
www.thetwinswing.comwww.facebook.com/thetwinswing
Jive Aces
www.jiveaces.comwww.facebook.com/jiveaces
Dresses supplied by Top Vintage Boutique
www.topvintage.comwww.facebook.com/topvintage
Thanks to Raymond Blanc and Jardin Blanc for allowing us to shoot outside his pop up restaurant.